See Say Now For Business Improvement Districts
July 13, 2018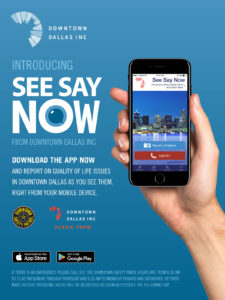 Today we're proud to announce that Downtown Dallas Inc. (DDI) has launched See Say Now, our app for empowering citizens to help keep their communities safe and clean. ELERTS is already deployed at Dallas Area Rapid Transit (DART), as the DART Say Something mobile safety and security app. As a result, DDI and DART will be able to coordinate using ELERTS' system, creating a robust safety communications network across the transit agency and the district.
Download the app on the App Store for iOS
Download from Google Play for Android
Our mission at ELERTs is to crowdsource safety and security concerns – the more eyes and ears keeping watch, the better. Adding business improvement districts (BIDs) to our customer base only made sense, as the free app enables users to safely and securely communicate with Police and Safety Patrol Teams for non-emergency issues, providing real-time information on concerns or issues, and aligning with the economic and community development that is often the focus of a BID.
ELERTS' apps are now live at transit agencies, airports and communities throughout North America. Please contact us today to learn more or request a demo.
DDI is a member of The International Downtown Association (IDA), a 1,000 member world leader and champion for vital and livable urban centers. ELERTS is exhibiting at the 64th Annual IDA Conference and Tradeshow in San Antonio in October.