ELERTS puts school safety in hand for educators and staff by using smartphones to establish fast bi-directional communication during volatile situations. Designed for iPhone, iPad, and Android smartphones, Event Alert can be used anywhere cellular or Wi-Fi service is enabled.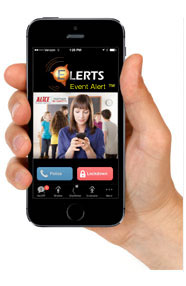 ELERTS Event Alert app connects teachers directly to local police, allowing them to send and receive real-time reports enhanced with text messages, photos, and GPS maps. App triggers Lockdown, Evacuate, and Shelter in Place commands for authorized users as well as integration with the Axis Access Control and IO Panel
Benefits:
App operates in low bandwidth environments
Uses 'store and forward' technology if signal is low
Cloud-based solution allows for simple integration
Access Control integration can build on existing systems
Solution is managed easily through a web-based console
Virtually unlimited scalability
ELERTS can integrate with the AXIS Access and IO Panel outside of access control software by communicating directly. While that's not the preferred integration method, this can assist schools with slow or minimal new device support.
Note: accuracy of the GPS map depends on the phone capability
---
For more information about integrating with ELERTS, reach us online anytime.