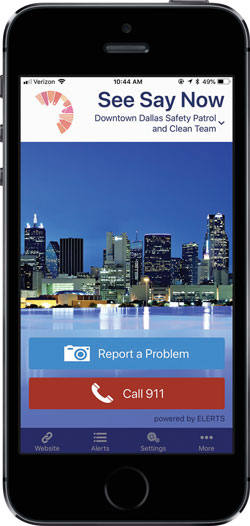 This See Say Now app is brought to you by Downtown Dallas, Inc. (DDI), a private nonprofit serving as the primary advocate and champion for Downtown Dallas. DDI manages the Downtown Improvement District (DID) and funds the Downtown Safety Patrol (DSP) and Clean Team to supplement City of Dallas services.  The DSP serves as extra eyes and ears for the Dallas Police Department. The Clean Team works to ensure the public space in Downtown is free of litter, debris and graffiti. We encourage you to use this app to report non-emergency safety and maintenance issues within our DID boundaries, inside the freeway loop. For issues not listed on this app, please report to 311. www.downtowndallas.com
Where do I download the app?
See Say Now is available for both both iOS and Android. It can be downloaded from the App Store (iOS) or Google Play (Android).
Or use these links from your phone:
See Say Now on the App Store for iOS
See Say Now on the Google Play Store for Android
How does the app work?
The public can do their part to help make Downtown Dallas safer for all by sending detailed reports directly to an dispatcher, whenever a concern or incident is observed.
From the app home screen, there are two easy options for contacting a Downtown Dallas Safety Patrol & Clean Team dispatcher:
Press the "Report a Problem" button to send a description of the issue with a photo or video, directly to the dispatcher. When reporting a problem, you may select from an easy drop-down menus for Report Type and Report Location, to assist dispatchers in assessing the situation. We recommend including a  photo or video along with your report.
* The "Call 911" button will place a phone call directly to 911 and should only be used when emergency police, fire or medical assistance is required.
Should I allow Location permission on the app?
Yes, allowing the dispatcher to receive your location along with your report, will help the dispatcher to respond to your report more efficiently.
What happens when connectivity isn't available
If you send a report in an area without cellular or wifi connectivity, it will be stored. The app will try to send your message in the background when your device is connected again. For iPhone users, your message may be sent sooner if you open the app on your phone.
Who will respond to me?
A Downtown Dallas Safety Patrol & Clean Team dispatcher will respond to you.