Free Webinar: how leading transit agencies, including SEPTA, are using crowdsourcing to enhance security.
Wednesday, February 7
11:00 a.m. EST
Public transit agencies face the challenging task of protecting their riders, employees, and property. Transits are now utilizing the highly valuable information source known as crowd-sourced reporting – with smartphones everywhere, getting real-time, incoming information from riders makes a critical difference for responding personnel.
Join ELERTS for a free webinar to learn how leading transit agencies, including SEPTA, are using crowdsourcing to enhance security.  ELERTS is an important part of SEPTA's travel safely campaign.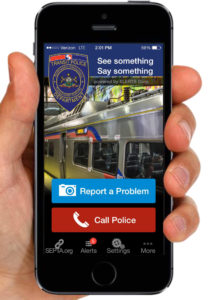 "We count on our customers to help be the eyes and ears of the system, and the SEPTA Transit Watch app now gives them a valuable tool to communicate directly with our police officers. This effort also enhances our overall "Make the Safe Choice" System Safety campaign by making it easier for riders to share tips that could end up saving a life."
– SEPTA General Manager Jeffrey D. Knueppel
SEPTA regularly promotes the popular See Something Say Something initiative with its Transit Watch app powered by ELERTS.
ELERTS provides crowdsourced, incident-reporting mobile apps that are solving the important problem of making the popular See Something, Say Something campaigns more actionable – empowering employees and the public to easily and anonymously report safety and security concerns to police. Major transit agencies – from Boston to Atlanta, Dallas to San Francisco and Toronto – already use ELERTS mobile apps to report security problems and operate more safely.
For example:
Assault
Crime in progress
Bus driver being assaulted
Robbery/Theft
Suspicious activity
Trespassing
Vandalism
In just 20 minutes we'll demonstrate how ELERTS is a cost-effective way to improve transit safety and security.
Register here today and indicate "Transit Safety Day" in the Message Field.