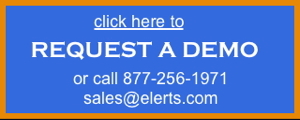 ELERTS is now providing See Say Now app to healthcare facilities. Hospitals, by nature of their open structure and accessibility to the public, are magnets for unpredictable or threatening events.
Now staff and security personnel can report and receive information during a volatile situation just by using their smartphones. With real-time alerts, photos and GPS mapping, the quality and speed of emergency communication is greatly enhanced – as is potential response time.
When a mobile alerting system is integrated with Video Management Systems, the results are even more powerful.
ELERTS See Say™
The ELERTS See Say app puts an easy-to-use safety resource in hand regardless of location: parking lot, corridors, ER or lounge – anywhere cellular or WiFi service is enabled.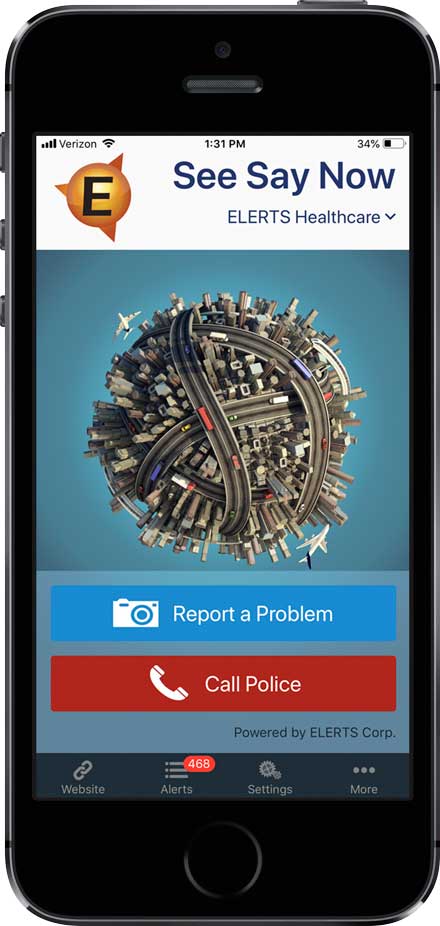 FEATURES
Works on iPhones, iPads and Android smartphones
2 bold buttons to Call Police or Report a Problem
Lets Security broadcast emergency alerts to individuals or groups
Lets staff send messages with photos and GPS map
Includes a Panic Button — users can hold the button for 3 seconds and transmit a panic report to their organization's security center
BENEFITS
Deploys rapidly
No impact on IT Departments
Easily managed through a web console
Maintains communication during changing situations
Adds human intelligence to video analytics
Tangible asset for employee retention
SUPPORTS JOINT COMMISSION REQUIREMENTS
Report a hazard. Document a practice.
Hospital Facilities Managers can also use ELERTS See Say to comply with Environment of Care, Emergency Management, and Life Safety mandates by using their smartphones to:
Document Joint Commission issues
Test emergency communication
Add a mobile layer to safety protocol
PRODUCT INFORMATION
Call 877-256-1971
Email sales@elerts.com