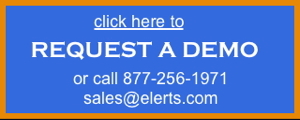 ELERTS incident reporting platform for K12 facilities improves communication throughout a school campus when there is a safety or security threat. With an assortment of tools made available for reporting, ELERTS solution enables teachers and other school employees to share information quickly. Readily-available information flows to and from stakeholders who can use a mobile app, Text-a-Tip service, a PC application or a web-form.
See Something Say Something
Early warning can change the outcome of a bad situation. Getting people to speak up and share what they know can be challenging.  With an emphasis on making it easy to report concerns, ELERTS solution lowers the natural barrier to NOT report something, so that important, actionable information is shared with authorities and stakeholders.
---
Request info or a demo
sales@elerts.com
877-256-1971