Riders report security and safety concerns. Thousands of watchful eyes and ears, engaged and helping police.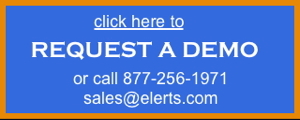 ELERTS provides an easy to use app for riders to report what they see. Police receive crowd-sourced information and can establish 2-way communication between riders and Transit Police. Photos and maps sent from riders provide police with context to an incident or suspicious activity. Managed through a web-based console, Transit Dispatchers respond to incident Reports, send out advisories, and deploy BOLOs.
Using an app allows riders to quickly submit reports. NEW! Includes FREE TEXT-A-TIP service for non-smartphone riders. Ask for details. The app can be branded with your Transit system logo and works with iPhone and Android smartphones. A convenient drop-down menu makes it easy for riders to indicate Report Type, such a: Assault, robbery, medical emergency or suspicious activity.
ELERTS is the leading provider to Mass Transits for See Something Say Something apps. With years of experience, the ELERTS system is proven to deliver results. Police gain real-time visibility to activities in a way that was not previously available. Crimes get stopped. People in distress get help. No hardware is needed to manage reports other than a PC with a web browser.
ELERTS Transit app features
Real-time, two-way chat
Anonymous reporting option
Intuitive navigation – no codes or passwords
Space for message, photo, GPS maps
App disables phone flash for discretion
"Store and forward" if cellular or WiFi signal is weak
Benefits
Uses technology already in hand
Works in low bandwidth environments
Easy to manage through web console
No hardware or installation required
Increases awareness and can act as a deterrent
Crowd-sourcing the public adds valuable insight
Best Practices:
Transit riders roll safer, using ELERTS See Say app in Atlanta, Boston, Buffalo-Niagara, Santa Clara, and San Francisco. Even a smaller transit system can use these smart tactics:
Issue local and national PR – invite TV anchors to take a free ride and try the app
Engage bloggers to write about positive changes in your transit system
Build a web page about your program and include links to the app stores
Create videos about your program and post them to your site, You Tube
Promote your program on flyers, schedules, tickets, station posters, car cards
Create city excitement with wrapped vehicles and launch day activities
Promote the app through Twitter and Facebook
Recognize Transit Police and staff for making your campaign work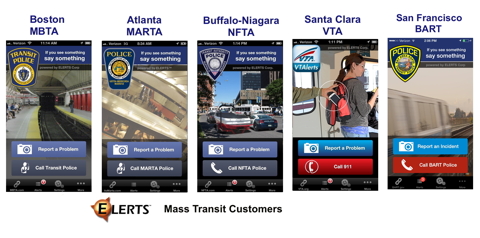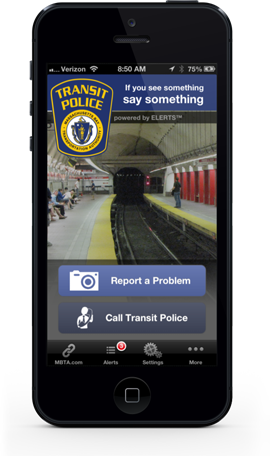 "Police Departments rely regularly on reports from the community in order to provide effective police services. The use of smart phones has grown dramatically in the past few years. This is especially true for those who use public transit. The "Elerts See Say" app has been very beneficial in allowing our customers to report on incidents that are occurring on the transit system, something they may have been reluctant to do without this easy to use app. In this age of communicating via social media, this app has proved to be a perfect complement with our Twitter and text line. The ability to send in a photo or simply a comment directly to our dispatch center greatly enhances our ability to respond appropriately."

Paul MacMillan
Chief of Department
MBTA Transit Police Department
Boston Ma
"We went online with the "See-Say App" in June 2013 and we are very pleased
with the results.  The App has been well received by our customers and the
feedback has been very positive.  From the start the process has very easy
from my initial meetings to the official "Roll Out", ELERTS staff and
technicians have been friendly, helpful and very knowledgeable.   The App
is very simple to use and the Console is easy to navigate, we have not any
issues since we went live, this has been a wonderful product."

Det/Lt. Michael E. Garrity, AASC,RSC
Commander,Investigative Services/Counter Terrorism Unit
Niagara Frontier Transit Police Department
Buffalo, NY
"The See & Say App has proven its value at MARTA by providing a working tool for our patrons to contact our police communications. The technology provides an added layer of capability to support our 'See Something, Say Something' campaign. Fundamentally, until this initiative most patrons could only call 911 for non-emergencies or find a MARTA employee to alert MARTA Police about anything suspicious. Now, they are comfortably empowered with a smartphone which can discretely take a picture, send a text, and other pertinent data to our police communications center. It a pretty good investment from my perspective."

Sgt. Aston T. Greene, M.P.A., GA-CEM
Emergency Preparedness Unit, Commander
Metropolitan Atlanta Rapid Transit Authority
MARTA Police Department
---
For more information
Call 877-256-1971
Email sales@elerts.com