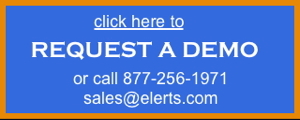 ELERTS offers an easy to use mobile solution that changes the way educators and students report safety and security concerns. With the press of a few buttons, ELERTS See Say™ app provides the academic community with a new standard of care. Designed for iPhones and Android smartphones.
ELERTS See Say™ for Campus
ELERTS See Say™ is a campus alert app  designed universities and college campuses, and can include staff and students, providing a fast, easy way to report security concerns without proximity to an alarm system or call box.
FEATURES
Reporting: Drop-down menu makes Report Type selection easy
Crowd-Sourcing: Message, photo, GPS map inform Security Dispatchers
Broadcast: Warnings can be broadcast to all students who use the app
Administration: The ELERTS EPICenter web console manages Reports
Alerts: ELERTS EPICenter allows 2-way chat with sender of original report
BENEFITS
Encourages students to be vigilant
Empowers students to take action
Handles situation with minimal resources
Enables ongoing bi-directional dialogue
Utilizes popular device already in hand
Can integrate with Video Surveillance Systems
School safety is everyone's responsibility.
PRODUCT INFORMATION
---
Request info or a demo
sales@elerts.com
877-256-1971