Employee Safety Reporting Program
The FTA now requires transit agencies to implement an ESRP system, per FTA PTASP regulation 49 C.F.R. Part 673:
Transits must implement an ESRP that allows ALL employees and contractors to report safety conditions to senior management.
WHY CHOOSE ELERTS ESRP?
Achieve 100% compliance with FTA ESRP regulations
Consolidate and analyze incoming reports (paper forms, webform, Hotline calls, email, and mobile app)
Export Safety data to CSV, PDF or with API
Easy to manage & submit safety reports
Efficient & Affordable to implement
MAKE ESRP COMPLIANCE EASY
ELERTS ESRP communication platform allows employees to quickly and discreetly report safety hazards. Your agency will be able to respond to incoming safety reports, provide valuable feedback and comply with FTA PTASP reporting regulations.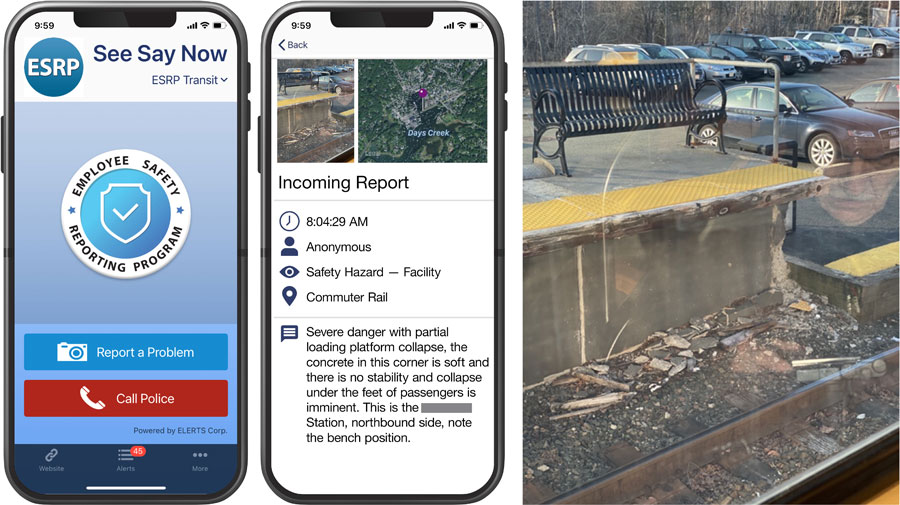 Give your employees the tools they need to share their safety concerns.
Employees who work day to day in the field can be your most valuable source of safety hazard data. ELERTS ESRP closes the gap between employees and management.
How? The ELERTS ESRP system, with the See Say Now mobile app, makes it easy for employees to report potential hazards. When employees notice a safety concern they describe the situation and can submit a photo or video with GPS location, in under 30 seconds! Actionable information is delivered. Reports are automatically archived, allowing for analysis and correction of safety concerns.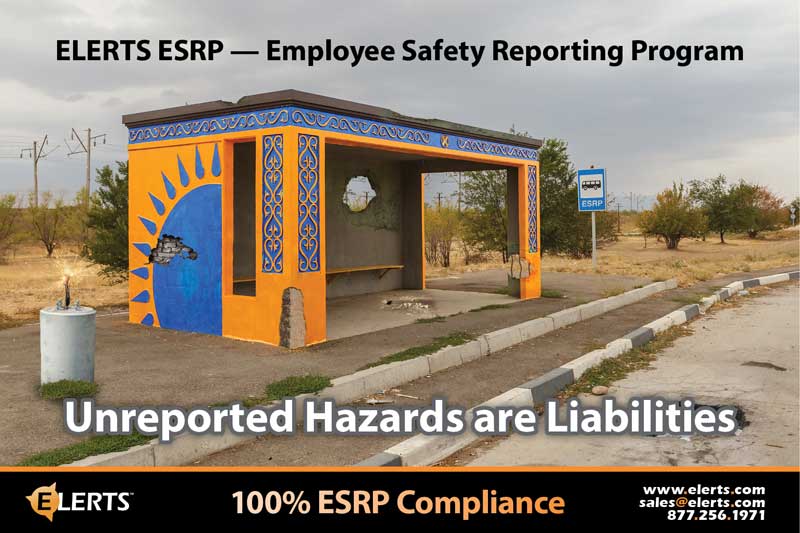 WITH ELERTS ESRP YOU CAN:
Notify management of safety hazards through the mobile app
Include photos, videos and GPS location
Process, analyze and refer issues for corrective action to improve safety performance
Achieve 100% compliance for ESRP
"We believe the ELERTS system creates the most effective ESRP."
— Jeff Cassell, President of TAPTCO
MORE INFORMATION