TRANSIT AGENCIES USE ELERTS MOBILE COMMUNICATION PLATFORM TO ENHANCE SAFETY AND TO VISUALIZE RIDER CONCERNS.
ELERTS incident reporting platform allows riders to quickly report safety, security and maintenance concerns. Reports may be submitted by using a mobile app, text-a-tip or web-form.  The Transit Agency dispatcher will receive the incident reports on a web-based management console. Incident reports may include photos, video, and a GPS map showing where the problem is occurring. In addition, the dispatcher may broadcast advisories to app users. Agencies may quickly share incident reports with other agencies. Incidents may be mapped over time to visualize a system-wide perspective of safety & security on the transit system.
The mobile app can be branded with your Transit system logo and works with iPhone and Android smartphones. A drop-down menu makes it easy for riders to indicate Report Type, such as: Assault, robbery, medical emergency or suspicious activity.
Real-time, two-way chat
Anonymous reporting option
Intuitive navigation – no codes or passwords
Send a message with photo, video, GPS location.
App disables phone flash for discretion
"Store and forward" if cellular or WiFi signal is weak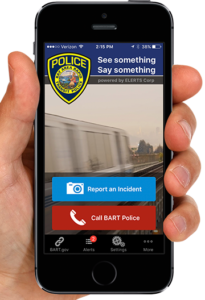 ELERTS is the leading incident reporting platform for Transit Agencies.  Transit agencies benefit from receiving early warning about safety and security problems.  No hardware is needed to manage reports other than a PC with a web browser.
Learn More
Request A Demo or Quote
"The product is very easy to use. Implementation was great and the staff have been very responsive."
Captain Norm Leong
Regional Transit Police Services
"The ability to send in a photo or comment directly to our dispatch center greatly enhances our ability to respond appropriately."
Paul MacMillan - Chief of Department Retired
MBTA Transit Police Department Boston, Ma
"It's a pretty good investment from my perspective."
Sgt. Aston T. Greene - M.P.A., GA-CEM Emergency Preparedness Unit
Commander Metropolitan Atlanta Rapid Transit Authority, MARTA Police Department
"The App is simple to use and the Console is easy to navigate.  This app is a wonderful product."
Det/Lt. Michael E. Garrity - AASC,RSC Commander, Investigative Services/Counter Terrorism Unit
Niagara Frontier Transit Police Department Buffalo, NY
ELERTS TRANSIT CUSTOMERS INCLUDE:
ANTIOCH TRI-DELTA
ATLANTA MARTA
ATLANTA STREETCAR
BOSTON MBTA
BUFFALO/NIAGARA NFTA
CHARLOTTE CATS
CHICAGO METRA
DALLAS DART
HESPERIA VVTA
JACKSONVILLE JTA
LOS ANGELES FOOTHILL
ORLANDO LYNX
PHILIDELPHIA SEPTA
PHOENIX VALLEY METRO
SACRAMENTO SACRT
SAN FRANCISCO BART
SANTA CLARA VTA
TORONTO TTC