Schools

---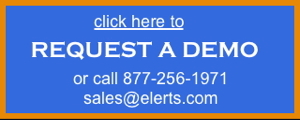 ELERTS offers two mobile solutions that change the way educators and students respond to threatening or suspicious events. Coupled with ALICE Training, www.alicetraining.com ELERTS Event Alert™ and ELERTS See Say™ provide the academic community with a new standard of care. Designed for iPhones, iPads, and Android smartphones.
---
ELERTS Event Alert™ for Teachers
Event Alert™ allows authorized personnel and First Responders to communicate real-time security concerns through a smartphone app
FEATURES
Sharing: Transmits bi-directional information in seconds
Action: Can initiate a Lockdown with the press of a button
Options: Also offers Shelter in Place and Evacuate commands
Reporting: Text message, photos, and GPS map add context
Speed: Police see reports on their devices and can respond faster
Status: App includes "SkyWriter" for personal safety updates
BENEFITS
In-hand broadcast channel works anywhere with cellular or WiFi service
Establishes a contained network for discreet communication
Supports situational response protocol as advocated by ALICE
Serves as a deterrent against bullying, vandalism and crime
Managed through a web console so no hardware installation needed
Can integrate with Access Control to lock doors and limit swipe cards
Download the app
ELERTS Event Alert™ for iOS
ELERTS Event Alert™ for Android
ELERTS See Say™ for Students
ELERTS See Say™ is designed for larger facilities and can include staff and students, providing a fast, easy way to report security concerns without proximity to an alarm system or call box.
FEATURES
Reporting: Drop-down menu makes Report Type selection easy
Crowd-Sourcing: Message, photo, GPS map inform Security Dispatchers
Broadcast: Warnings can be broadcast to all students who use the app
Administration: The ELERTS EPICenter web console manages Reports
Alerts: ELERTS EPICenter allows 2-way chat with sender of original report
Virtual Monitoring: Users can activate "Escort Me" by pressing a button
BENEFITS
Encourages students to be vigilant
Empowers students to take action
Handles situation with minimal resources
Enables ongoing bi-directional dialogue
Utilizes popular device already in hand
Can integrate with Video Surveillance Systems
School safety is everyone's responsibility.
Download the app
ELERTS See Say™ for iOS
ELERTS See Say™ for Android
---
Request info or a demo sales@elerts.com 877-256-1971