The 15:17 to Paris is a must-see for Transit Agencies
January 24, 2018
"To be effective, attacks should be launched against soft targets that cannot possibly be defended to any appreciable degree." – The 15:17 to Paris

Targets, in other words, like transits.
At ELERTS, we believe in empowering every day citizens, who often become everyday heroes. There are people in transit every day – on trains, buses, airplanes and subways – who can help stop people with bad intentions. Transit agencies are safer when their passengers act as the eyes and ears of public safety. Passengers can – and have – helped to thwart terrorist attacks, sexual harassment, and even human trafficking, as well as identify lost children or dementia patients.
Crowd-sourcing public safety and security really works.
On February 9, 2018, the movie "
The 15:17 to Paris
" will be released. The movie tells the real-life story of three young American men— Spencer Stone, Anthony Sadler, and Alek Skarlatos — who thwarted an ISIS attack on a train heading to Paris in 2015.
Anyone who rides public transit or works for a transit agency can appreciate the actions of these brave men. Unfortunately, terrorist attacks on transits are a continuing threat.
The See Something Say Something campaigns urge the public to report suspicious activity. Stopping a crime or attack is the aspiration of these pervasive public safety campaigns. Early warning to transit authorities and to police can provide the situation awareness necessary to stop an escalating threat before it breaks loose, leaving people injured and killed.
These young men are indeed, heroic. You never know when your transit riders will face a situation that turns them from ordinary citizens into extraordinary heroes. Are you arming them with the ability to help?
"Public transit is a plum target for terrorists. Public transit attracts terrorists because it's hard to secure (unlike airports, most cities can't set up massive checkpoints and bag scans) and easy to access. It's also, quite often, packed, particularly around rush hour." – Washington Post
We encourage transit agencies to empower passengers to easily report incidents when they see safety or security threats, by enabling people with mobile phones to easily "say something" when they see something. 16 leading transits already use ELERTS' See Say mobile apps to increase transit safety, by providing situation awareness to the agency about a crime in progress or an unfolding threat.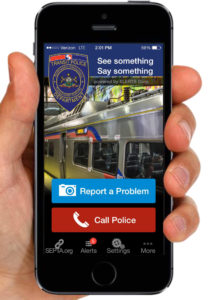 ELERTS believes the public and authorities can better coordinate to increase public safety, along the intended behaviors of the
See Something Say Something
campaigns. Usually there are only two methods offered to the public to report suspicious activity. The first is to approach a LEO (Law Enforcement Officer) and tell them your concerns. This can be intimidating and many people will not do so. The other option is to call 911 and speak on a recorded line to a police dispatcher who will ask several questions about you and the incident. Such calls can feel a burden and that you become really 'in it' more than you may want to be. We are all in a hurry. We want to do our civic duty, but we do not want to be delayed, interrogated and sometimes not even identified.
Using a mobile app to crowd-source incident reports to the authorities is the answer. A mobile See Say app empowers people to report an incident in 20 seconds or less, anonymously, and to go about their business knowing they did their civic duty.
We've seen it work, day after day. Help improve your Transit System – embrace 21st Century Policing.

Request a demo

, today.