Transit Agency Best Practices: DART
March 26, 2018
ELERTS works with over 15 transit agencies throughout North America. While each agency has unique ways to promote their individual apps, we celebrate their efforts and share best practices to help all of our customers increase downloads and engage riders to increase safety.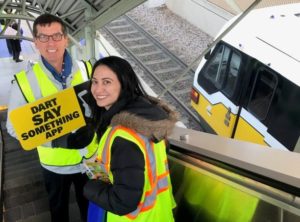 Today we take a look at Dallas Area Rapid Transit (DART). The transit agency recently made a concerted effort to educate its riders on their DART Say Something app by executing a "security blitz," where they sent a street team out to encourage riders to download the new DART Say Something app. The DART Say Something app allows customers to report suspicious behaviors or activities, crowd sourcing safety in transit. The app also provides safety alerts from DART Police, allows riders to share their location on a map and to indicate whether they need help. It also works with the DART mobile website where riders can access additional information.
"Many people are afraid to call the police during a situation, but no one pays attention if you are typing on your smartphone," DART Police Chief James Spiller said. "The DART Say Something app allows customers to send updates to dispatchers on what's happening without being noticed. Having instant, detailed information from witnesses on the scene will help us resolve incidents faster."
The DART communications team had DART Police Chief Spiller talk to the media and riders, and promoted the security blitz through a video post, updates on their social media channels like Twitter and a blog, as well as a detailed website highlighting the day with photos. The transit agency also has a dedicated page for the app. As a result, their downloads continue to grow daily. Great work, DART!