Safety Research and Demonstration (SRD) Program
2020 FTA GRANT FUNDING IS AVAILABLE
Don't miss out. We can help you apply! Call ELERTS today — 877-256-1971.
SRD PURPOSE
The FTA wishes to fund the demonstration and evaluation of innovative technologies and practices to improve rail safety. The FTA is particularly interested in proposals to prevent and mitigate suicide and trespassing hazards on rail systems. FTA website documentation about SRD is here.
The goals of FTA's safety research are to:
Improve public safety by reducing transit-related injuries, fatalities, safety events, and enhance system reliability by testing promising new technologies, designs and practices.
Assess ways to promote better public transit safety cultures through the adoption of voluntary safety standards and best-practices.
AMOUNT
A total amount of up to $7.3 million is available. There is no minimum nor maximum grant award.
DEADLINE
March 24, 2020 is when complete proposals are due through GRANTS.GOV
Starting your application early is recommended by the FTA.
ELERTS can help you apply. Ask for our SRD grant application template, call 877-256-1971.
ENHANCING RAIL SAFETY WITH ELERTS
ELERTS is the leading mobile incident reporting solution for transit agencies. Over 30 transit agencies use ELERTS system to enhance safety and make it easy for passengers and employees to report safety hazards.
For the SRD grant program and to expand the capabilities of ELERTS system we propose integrating a Content Delivery System to send transit safety content-lessons to users of an ELERTS incident reporting mobile app. Passengers and employees can become better informed on how to recognize and report safety hazards to transit agency dispatchers. Data will be collected and analyzed regularly to prove the effectiveness of this solution for improving rail safety.
Don't miss out. We can help you apply! Call ELERTS today. 877-256-1971
THE ELERTS PROJECT PROPOSAL THESIS
Crowdsourced incident reporting is effective at delivering early warning when a safety problem or other concern arises on transit property or inside transit vehicles. Passengers who depend on public transportation want to do their civic duty and help keep public transportation safe. They are willing to speak up, if it's easy and convenient to do so. When they see an incident or a safety hazard or a sub-standard quality-of-life condition, passengers are upset and want to vent.
PTASP + PASSENGERS
Though PTASP safety mandates only require transit employees to be trained to recognize, rate and report safety hazards, the passengers have a lot to contribute to safety. Passengers are everywhere in a transit system and far outnumber transit employees. More eyes and ears participating in a safety hazard reporting program will yield more situational awareness to problems. Analyzing incoming reports over time can yield important trends and help understand where and when most problems are being reported so that corrective action can be focused to mitigate the most significant hazards.
PROPOSAL: EDUCATE PASSENGERS ABOUT SAFETY
Passengers become an even more useful resource for contributing situational awareness of safety hazards if they are provided some safety training, as is afforded to transit employees. ELERTS proposes integrating a Content Delivery System into its crowdsourced incident reporting platform, to enable training lessons to be provided directly to the app-using public (and employees). When an app-using population receives educational messages from their transit agency, they are better equipped to recognize and report rail safety hazards and other concerns such as potential suicide-contemplating persons, rail trespassers, terrorism-related activities, and Human Trafficking concerns.
EMPOWERED FOR ACTION
A safety-educated person with a 2-way incident reporting app on their mobile phone is a formidable resource for transit agencies to leverage in their efforts to reduce safety hazards and rail suicide incidents.
PROBABILITY OF SUCCESS IS HIGH
ELERTS incident reporting system is in use and proven effective at many transit agencies such as Boston MBTA, Atlanta MARTA, Dallas DART, Northern Indiana NICTD, Philly SEPTA, Phoenix Valley Metro, Sacramento SACRT, Chicago METRA, San Francisco BART and others. ELERTS has 10 years of experience developing and delivering its incident reporting system to transit agencies. The ELERTS system can be deployed in 30 days. As a cloud-based solution, no hardware nor software is required to be installed on premise at the transit agency.
EFFECTIVENESS HISTORY OF ELERTS PLATFORM
ELERTS system has already delivered incoming reports of:
Rail trespassers
Possible rail suicide being contemplated
Unusual train sounds, shaking or speed
Train doors failing to close and other equipment failures
Missing bolts on rails and other physical rail issues
Objects nearby or on rail tracks
Crossing grade arm problems
Possible human trafficking suspects
Threats and assaults on transit employees
Train operator behavior
Suspicious activity
Unattended packages
FEMA TESTING
ELERTS platform was tested by FEMA and rated consistent with all NIMS criteria: Emergency Support, Hazards, Preparedness, Communications and Information Management, Resource Management, Command and Management.
DOT COMBATTING HUMAN TRAFFICKING REPORT
The ELERTS solution is cited for reporting suspected human trafficking in the DOT "Combatting Human Trafficking in the Transportation Sector" final report. Crowdsourced information is an important resource in stopping human trafficking. ELERTS system is being used by transit agencies to educate the public about human trafficking and to receive reports of potential human trafficking from passengers and employees.
Don't miss out. We can help you apply! Call ELERTS today: 877-256-1971.
ACTUAL REPORTS
FROM TRANSIT RIDERS
TRESPASSER
RAIL FATALITY CONCERN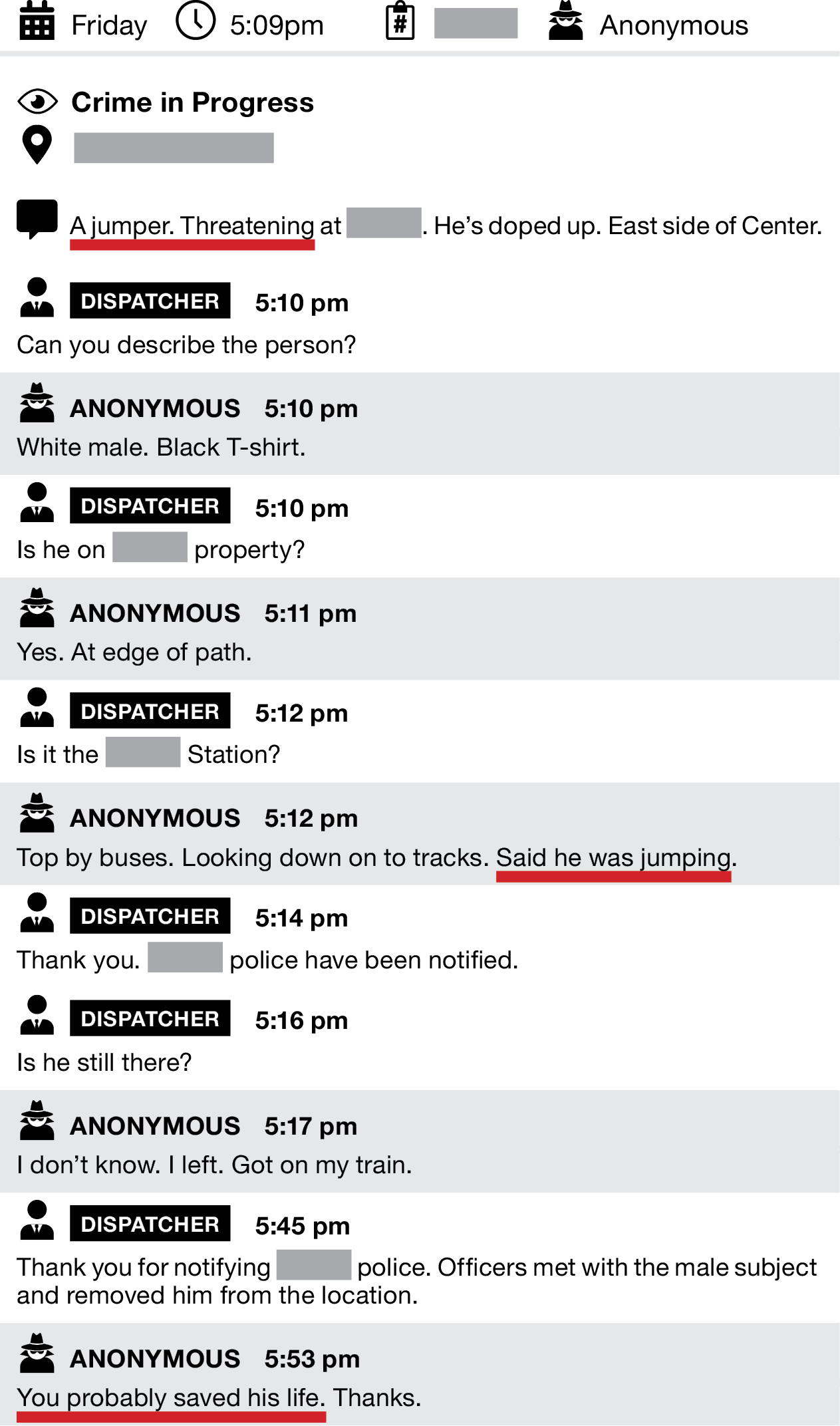 POSSIBLE SELF-HARM